New Bill Hits Home for Our Wisconsin Workers' Comp Lawyers
On Tuesday, Dec. 10, 2019, there will be a public hearing to discuss a bill that would allow first responders easier access to mental health benefits. As Wisconsin workers' comp lawyers, this bill personally resonates with our team at Sam Bomier Law. We see the devastating effects that physical and mental workplace injuries and illnesses can have, and we firmly believe in protecting the safety and mental health of the men and women who protect our cities.
Introduced by Sen. Andre Jacque (R- De Pere), the changes that this bill is proposing could make workers' compensation law more supportive of our state's first responders.
What Could the Bill Mean for First Responders?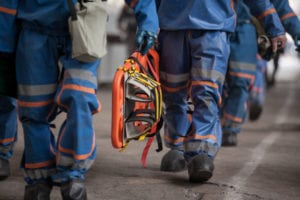 This bill would make it less difficult for first responders to get the help they need to cope with the severe and, oftentimes, debilitating mental burdens they face every day due to their line of work. Currently, workers' compensation only covers mental harm or emotional stress if it occurred from a situation more intense than the day-to-day mental stresses the average employee in their field experiences.
Unfortunately, this rule has been failing those with more stressful, dangerous jobs, like first responders. Police officers and firefighters are exposed to a far greater amount of stressful situations on a day-to-day basis than those in most other industries, yet they're still held to this same standard.
President of the Professional Firefighters Association of Wisconsin, Mahlon Mitchell, told WKOW that his fellow responders are having a difficult time dealing with the scenes they are exposed to every day. First responders are often called to graphic scenes or situations where they must fight for their lives and the lives of their partners. These events take a toll on the human body mentally and physically. Sadly, it is tremendously difficult for these individuals to receive workers' comp benefits because these serious mental stresses aren't "more intense than the day-to-day mental stresses" associated with their job.
"The burden of proof is impossible. It's what we see over time, day in and day out that really starts to wear on you," said Mitchell.
Sen. Jacque hopes his bill will improve this tragic problem by excluding first responders from the workers' compensation rule that requires their mental harm result from a situation of greater strain than an average day.
An Increasingly High Suicide Rate
Throughout the U.S., a study showed that 103 firefighters took their own lives while 93 died in the line of duty in 2017. The study also showed that 140 police officers took their lives and 129 died in the line of duty. Many responders struggle with post-traumatic stress disorder (PTSD) that goes undiagnosed and untreated because they cannot afford psychological treatment.
"I have been to more funerals for firefighters that have taken their lives than I have of firefighters that have died in the line of duty," Mitchell said.
Wisconsin lost young Platteville firefighter and Madison Sergeant, Jessica Fischer, to suicide in 2019. This death, along with countless others, demonstrates the significant need for easier access to mental harm compensation for first responders.
Sam Bomier Law Is Here to Help
If you have been physically injured or suffered mental harm due to your line of work, you should be entitled to workers' comp benefits. Sam Bomier is an experienced Wisconsin workers' compensation lawyer who has been passionately fighting for injured workers in Appleton and across Northeast Wisconsin for over 30 years.
If you have any questions about your rights, call our office today at (920) 404-2050 or fill out our free online case evaluation form. We know what to do and are here to help you!